Christmas chocolate selection boxes are a festive staple but our favourite treats are often snapped up from tubs and tins right away, while others are left behind and even thrown out.
We set out to find the UK's winning Christmas selection box, with exactly the right number of all the nation's favourite miniature treats.
We asked 2,000 UK adults to choose their favourite selection box chocolate out of all the treats available in Cadbury's Heroes and Roses, Mars' Celebrations, and Quality Street.
Our survey revealed that UK's favourite selection box chocolate is mini Malteser 'Teasers', which feature in Celebrations boxes, with almost one in ten (9%) naming it their favourite.
However, Maltesers were much less popular among the older generations (6%). Those aged over sixty-five much prefer Quality Street's Purple One (9%) which is a tasty milk chocolate, hazelnut and caramel combination.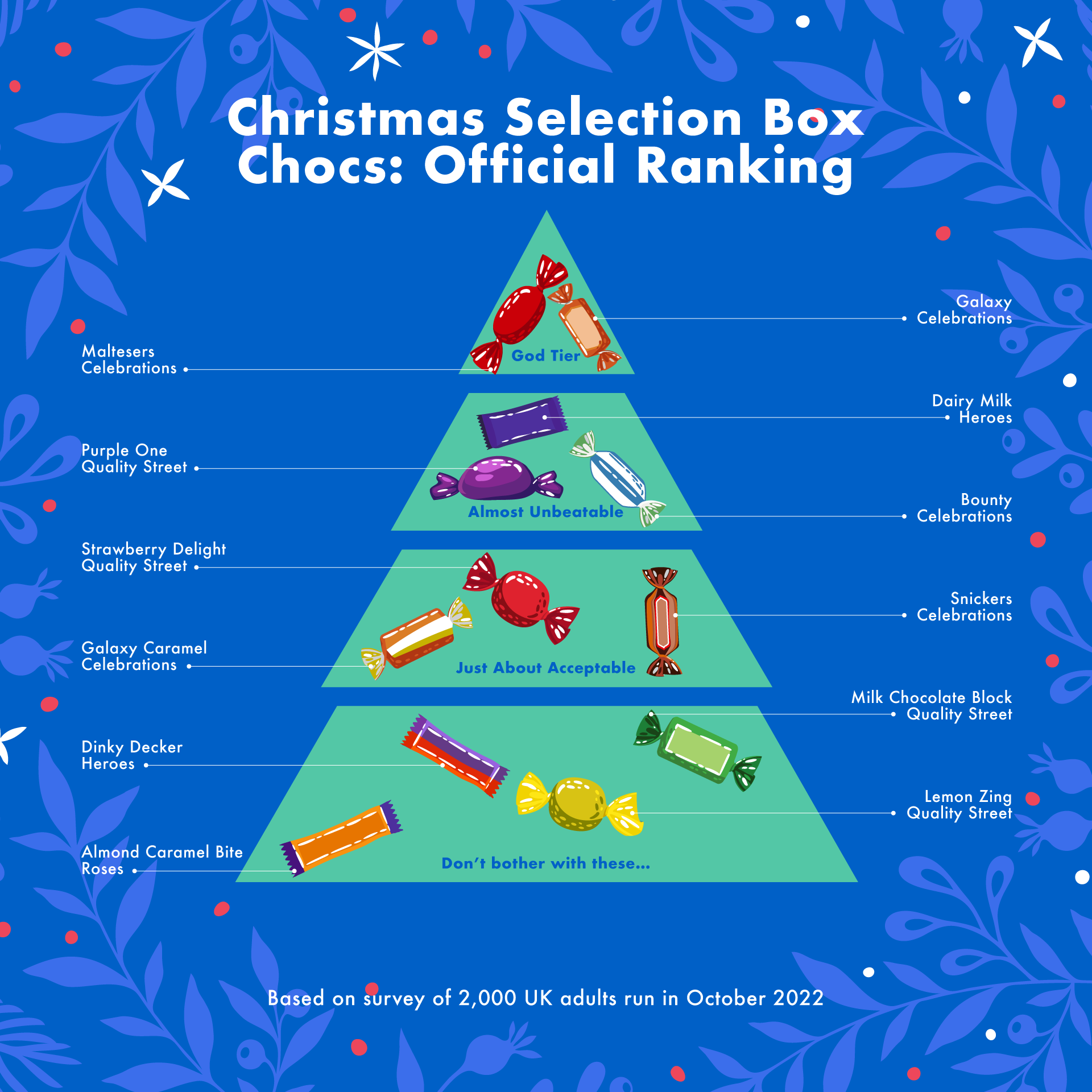 The UK's top 10 selection box chocolates, ranked (based on the number of people who named them their favourite)
Celebrations - Malteser 9%
Celebrations - Galaxy 6%
Quality Street - The Purple One 6%
Heroes - Cadbury Dairy Milk 5%
Celebrations - Bounty 5%
Celebrations - Galaxy Caramel 4%
Celebrations - Snickers 4%
Quality Street - Strawberry Delight 3%
Heroes - Creme Egg Twisted 3%
Quality Street - The Green Triangle 2%
Podium places also go to the original Galaxy, which is also in the Celebrations selection (with 6.3% of votes) and Quality Street's Purple One (with 5.7% of votes).
In contrast, Roses' Almond Caramel Bite, Heroes' Dinky Decker and Quality Street's Milk Chocolate Block may not get much of a look in this Christmas, as they were the least popular choices in our survey.
The UK's 10 least popular selection box chocolates (based on the number of people who named them their favourite)
Roses – Almond Caramel Bite 0.5%
Heroes – Dinky Decker 0.7%
Quality Street – Lemon Zing 0.8%
Quality Street – Milk Chocolate Block 0.8%
Heroes - Éclair 0.9%
Quality Street – Caramel Swirl 0.9%
Quality Street – Orange Crunch 0.9%
Roses – Country Fudge 1%
Roses – Signature Truffle 1%
Roses – Golden Barrel 1%
Crafting a winning selection box
According to research by Which, the average Christmas selection box has 65 chocolates in it. We used our survey insight to find the perfect number of each chocolatey treat to make up the UK's winning selection box.
Celebrations chocolates make up five out of ten chocolates in the UK's Winning Selection Box. Three Quality Street chocolates are in the box and two Heroes, while no Roses made the cut.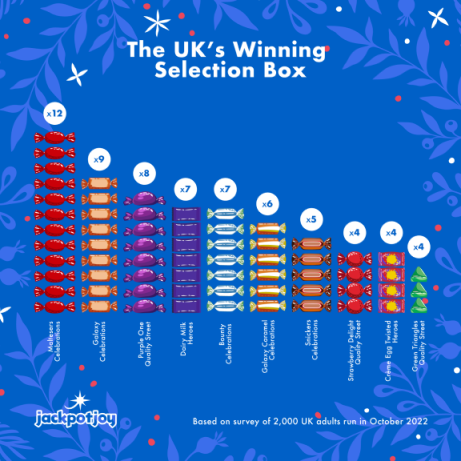 According to our survey, a winning Christmas chocolates selection box should contain:
12 Maltesers
9 original Galaxy
8 Quality Street Purple Ones
7 Cadbury Dairy Milks
7 Bounties
6 Galaxy Caramels
5 Snickers
4 Strawberry Delights
4 Crème Egg Twisted
3 Green Triangles
You only get eight Maltesers and six Galaxy in the average tub of Celebrations though, which according to our survey may not be enough!
There are also only five Purple Ones in the average Quality Street tin, while eight is the perfect number in our winning selection box. There are bountiful Bounties in a Celebrations tub though, with an average of eight in each tub. The nation's love for the coconut flavour chocolate may come as a surprise, considering Mars ran a 'Bounty Return Scheme' last year. This allowed customers to return unwanted Bounties to their local store to get more Maltesers in return.
Dream selection box chocolates
On top of this, there are plenty of favourites that have not yet appeared in miniature size that the nation would love to find in a future tin or tub.
The treats people would most like to see 'made mini' and added to a selection box are Cadbury Flake (28%), Cadbury Dairy Milk Fruit and Nut (21%), and Terry's Chocolate Orange (21%).
The UK's top ten 'dream' selection box additions
Cadbury Flake - 28%
Cadbury Dairy Milk Fruit and Nut - 21%
Chocolate Orange - 21%
Toblerone - 20%
Cadbury Boost - 19%
Cadbury Dairy Milk Whole Nut - 18%
Lindor - 17%
Galaxy Ripple - 17%
Cadbury Curly Wurly - 17%
Cadbury Toffee Crisp - 16%
Blasts from the past
But if they could choose any chocolate from the past, then a Cadbury Dream (a white chocolate bar) is the number one retro chocolate bar that the UK would love to see return in the form of a Christmas selection box miniature.
Almost one in ten (8%) or 5.37 million UK adults wish the bar would make a comeback in a fun-sized format. You can only currently buy a Cadbury Dream at B&M, as it is no longer manufactured in the UK!
Other popular choices include:
But the retro bar millennials (age 25-34) most want to see in their selection box is the Cadbury Snowflake, which was a white chocolate Flake coated in milk chocolate. This old favourite was sadly discontinued in 2009.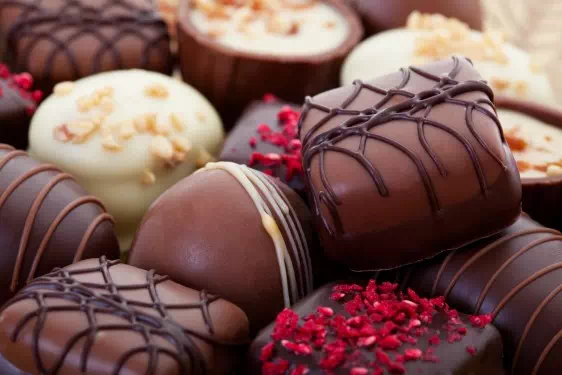 We also asked the nation what time of year they start tucking into their selection boxes. Shockingly, more than three million people eat these chocolates all year-round, rather than saving them for the festive season!
However, many people wait until right before Christmas to crack open their tubs and tins. Three out of ten (30%) people dig in around the 22nd-25th of December.
But when the festivities are over, what do we do with the chocolates we don't like? Thankfully, many people choose to gift their remaining chocolates to family and friends (41%) - we all have our personal favourites!
When we're not busy taking on the very important job of crafting a winning Christmas selection box, we're enjoying the huge variety of online bingo games on offer here at Jackpotjoy. There's something for everyone at Jackpotjoy!
ABOUT OUR STUDY
We surveyed 2,000 UK adults completed in October 2022
The UK population figure 67,215,293m was taken from World Bank data
The average selection box contents info was sourced from research by Which?