UK's Winning Proposal Spots
Deciding when and how to propose to your partner can be both exciting and nerve wracking. From picking out the ring, to preparing what you'll say, there's lots to think about when planning your special moment with your partner.
A romantic weekend away can be a perfect way to pop the question, but with so many great getaway destinations across the UK, where should you go?
To help you plan a proposal that's sure to win over your loved one, we ranked 75 different famous proposal locations across the UK, based on some all-important factors like:
The proportion of nearby romantic restaurants compared to population, according to TripAdvisor
The proportion of romantic hotels rated 4* and above in the local area (also according to TripAdvisor)
How 'picturesque' the proposal spot is (based on the number of Instagram hashtags)
The number of people who voted the area as their top destination for a romantic weekend getaway and proposal
Top ten winning proposal spots in the UK
Bath and Cambridge, famed for their historic and picturesque architecture, dominated the top ten thanks to their many romantic restaurants and hotels, where couples can celebrate after a truly special, heart-winning proposal.
Of Cambridge's 80 hotels on TripAdvisor, a third of them (37%) are classed as 'romantic'.
So, without further ado, the top ten winning spots to propose to your partner are…
1. Trinity Bridge, Cambridge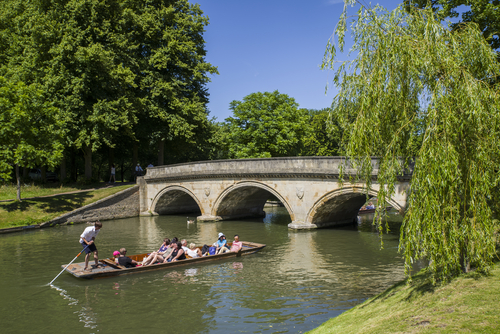 This historic bridge spans the River Cam and it is a popular spot for tourists and locals alike. Trinity Bridge is often considered a romantic place due to its beautiful architecture and setting. It offers stunning views of the river and the surrounding city, and it is a popular spot for couples to take a leisurely stroll or sit and watch the boats pass by.
The bridge is also a popular spot for wedding photography, as the backdrop of the river and the city makes for a beautiful setting for pictures that you'll love to look at for years to come.
2. Cleeve Hill, Cheltenham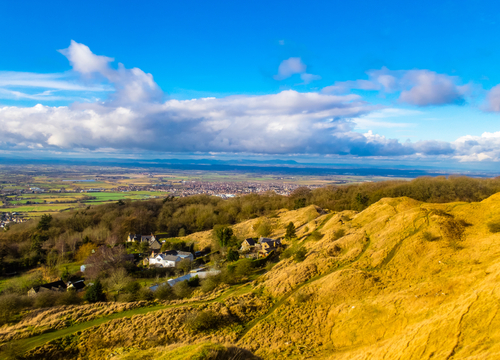 Cleeve Hill has a rich history dating back to ancient times. It was once home to a Neolithic burial mound, and it was later inhabited by the Celts and Romans.
In modern times, Cleeve Hill has become a popular spot for hikers and nature enthusiasts, with its surrounding countryside and its many walking trails.
The views from the top really are breathtaking, and couples can enjoy the fresh air and peaceful scenery, making it a perfect place to get down on one knee.
3. The Varsity Hotel and Spa, Cambridge
One of the key features of the Varsity Hotel and Spa is its rooftop terrace, which provides panoramic views of the city skyline, making this outdoor space an ideal place to pop the question and then celebrate that they said 'YES' while you watch the sun set over the river.
The hotel also has a spa, a fine dining restaurant, and a cosy bar, providing you with somewhere to relax and unwind after your big moment.
4. Belfast's Irish Sea coastline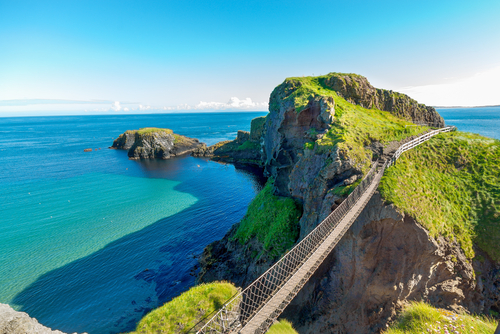 The Irish Sea coastline near Belfast is a breathtaking and romantic setting for a marriage proposal. Nestled between the rolling green hills of the countryside and the rugged cliffs of the coast, this area is rich in natural beauty and history.
Carrick-a-Rede Rope Bridge, which spans a deep chasm between the mainland and a small island, is a popular proposal spot. As you walk across the wobbly bridge, surrounded by the sound of crashing waves and seagulls, you can't help but feel a sense of adventure and excitement.
The seaside towns and villages along this coastline are charming and full of character too, and there are lots of cosy pubs to head to after your special proposal.
5. The Pump Room, Bath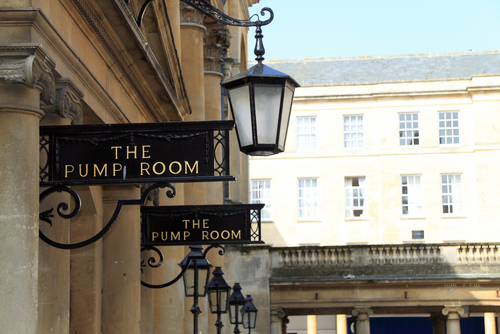 The Pump Room in Bath, England dates back to the 18th century and it has long been a popular spot for marriage proposals, with many couples beginning their journey to happily ever after within its walls.
In recent years it has undergone renovation work, restoring it to its original glory and helping make it a popular destination for tourists and locals alike. It is still a great place for a romantic proposal, with its grand, historic setting and beautiful views of the nearby Roman Baths.
Whether you choose to pop the question over a glass of champagne in its elegant bar or during a candlelit dinner in its fine dining restaurant, the Pump Room is a lovely backdrop for a memorable and romantic proposal. It is a truly special place to begin a lifetime of love.
6. Giant's Causeway, Coleraine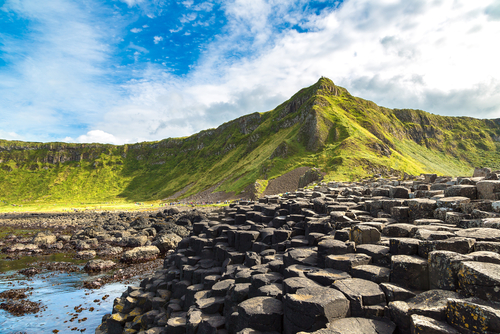 The Giant's Causeway is a natural wonder located in County Antrim, Northern Ireland. It is an area of approximately 40,000 interlocking basalt columns, which were formed as a result of an ancient volcanic eruption around 50-60 million years ago.
The basalt columns stretch out into the ocean, creating a breathtaking view of the coast. The area is also home to a variety of wildlife, including seabirds, seals, and plants that thrive in the rocky environment.
In addition to its natural beauty, the Giant's Causeway has been a site of legend and folklore for centuries, with stories of giants and mythical creatures associated with the causeway. This adds a romantic and magical element, making it an unforgettable place to be with the person you love.
7. Claife Viewing Station, Lake District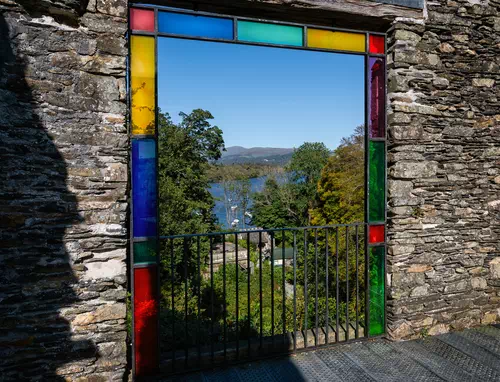 The Claife Viewing Station is a historic building located on the edge of Lake Windermere in the Lake District, England. It was built in 1791 by John Ruskin, a famous artist and writer who was passionate about the beauty of the Lake District. The building was designed as a place where people could go to view the stunning scenery of the lake and surrounding landscape.
8. The Roman Baths, Bath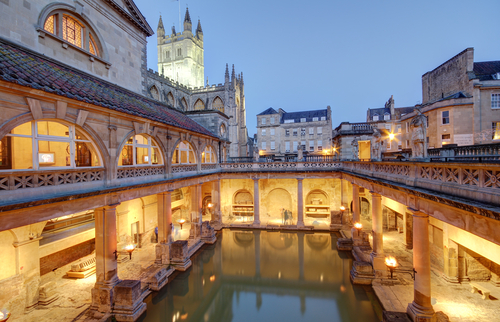 The Roman Baths in Bath are a lovely spot for a wedding proposal for a number of reasons. Firstly, the setting is absolutely breathtaking, with beautiful architectural details and a picturesque location right in the heart of the city of Bath. Secondly, the baths have a rich history and a romantic atmosphere, making it a unique and memorable place to propose. Finally, the baths offer a range of amenities and activities, including a spa and a restaurant, which make it a perfect spot for a celebration after you've popped the question.
9. Kings College Chapel, Cambridge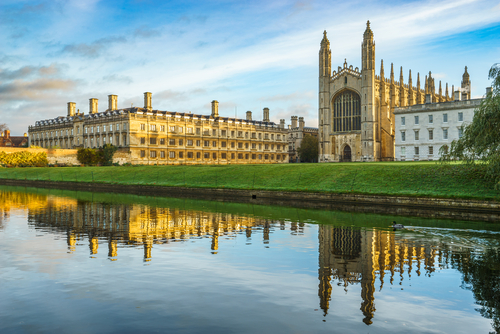 Kings College Chapel in Cambridge is a stunning architectural masterpiece that has been a part of the city's history for over 500 years.
The chapel was designed in the Gothic style, with its towering spires and intricate stone carvings, and it was completed in 1515. It is renowned for its beautiful stained-glass windows, which depict scenes from the Old and New Testament.
Today, Kings College Chapel is a popular spot for wedding proposals, thanks to its beauty and historic significance. Couples can choose to get married in the chapel itself too, or in the nearby gardens, which offer lovely views of both the chapel and the surrounding city.
10. Bath Abbey Tower, Bath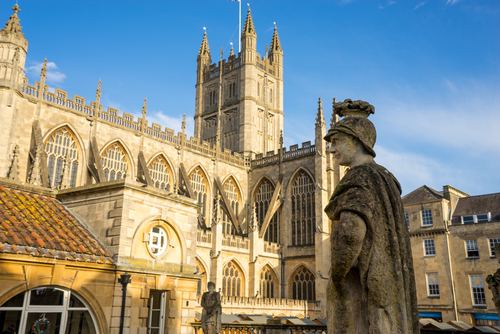 Bath Abbey Tower was originally built as part of a monastery but was later converted into a church in the 16th century.
Today, it is a popular tourist attraction, with visitors able to climb to the top and enjoy great views of the city and the surrounding countryside. It is also a popular spot for wedding proposals, with couples seeking out the romantic setting and scenery to ask for their partner's hand in marriage.
The most romantic destinations in the UK
If none of these 'hot spots' are quite what you had in mind, then it may be worth exploring other areas and finding somewhere that's more personal to you and your partners.
These are the places that people consider to be the most romantic, according to our survey of 2,000 UK adults:
| Destination | Percentage of Total Vote |
| --- | --- |
| Lake District | 11% |
| Cornwall | 9% |
| London | 7% |
| Cotswolds | 6% |
| Edinburgh | 6% |
| Bath | 5% |
| Isle of Skye | 5% |
| York | 5% |
| Yorkshire Dales | 4% |
| Devon | 4% |
The picturesque Lake District in the north of England was took the top spot, with over one in ten admiring it for a romantic lakeside proposal (11%). Cornwall and London also took podium places.
For those coveting a Lake District proposal, Claife Viewing Station near Hawkshead is the top spot in this study, coming 7th overall.
And if you're looking at a romantic destination in Cornwall, Watergate Bay in Newquay is the best place to head according to the stats, as #watergatebay has 600k hashtagged posts on Instagram and also has lots of romantic hotels and restaurants nearby. The popular beach destination ranked 15th overall in our study.
But if a cosmopolitan break in London is more your thing, Holland Park's Kyoto Gardens came top in England's capital, ranking 37th in the study. The London Eye just scraped the top fifty, coming 48th.
Top ten most romantic settings
Still struggling to decide on a winning way to get down on one knee? We also asked our survey respondents to choose the ideal type of place they'd like to get engaged, and these were the results: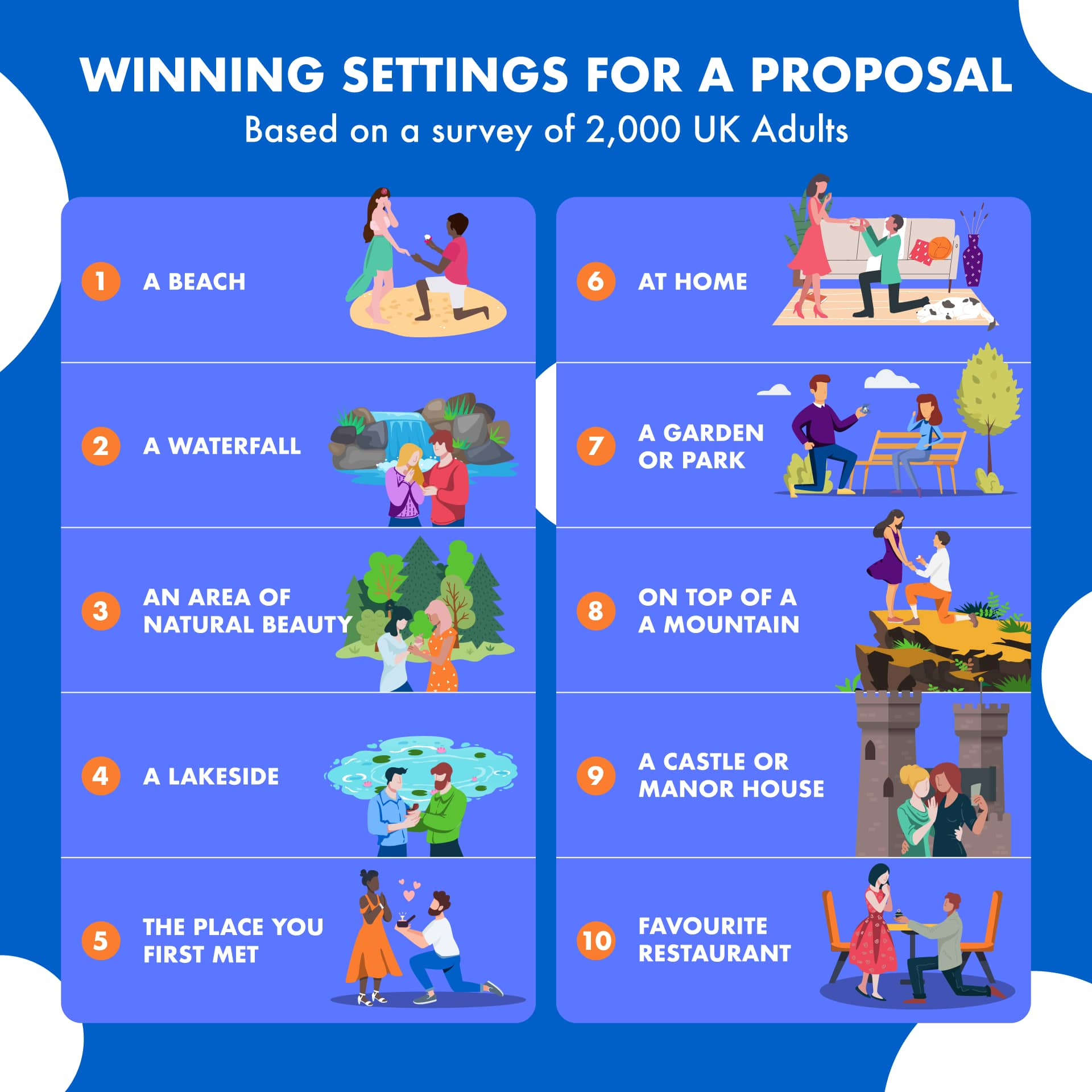 Natural locations dominated the 'most romantic settings' poll, with a beach or waterfall earning the first and second places in the top ten table.
Perhaps surprisingly though, sentimental spots like the place you first met your partner, or their favourite restaurant, didn't rank as highly.
In terms of the settings that didn't make the top ten (and that you may want to swerve unless you're sure your partner will love it) cultural sites and leisure attractions were among the least popular proposal locations. Less than one in 200 (0.4%) said that they would love a museum or art gallery proposal and just 3% would love to be proposed to near a historic building or landmark.
Those considering a more unusual proposal setting, like a zoo or aquarium (0.6%) and an amusement park (0.4%), may want to reconsider this too, as they were also among the least popular proposal settings.
We're all about those winning moments
Here at Jackpotjoy, we're all about those winning moments that brighten your day. Whether it's having your loved one say 'yes' to the big question, or simply playing online bingo with friends, it's these moments that are worth remembering and celebrating.
Ready to get started? Find out more about bingo at Jackpotjoy here!