We asked 2,000 UK adults to spill the beans on their secret celebrity crushes, the songs they can't help but sing, and the fluffy films they haven't told anyone they love.
We found that former Countdown star Carol Vorderman is the UK's most common secret celebrity crush, with more than one in 10 across the country admitting to fancying the 61-year-old maths whizz.
ABBA's Dancing Queen takes the top spot for the nation's favourite cheesy song – but a quarter of the nation keep their love of the karaoke classic a secret.
And 13% of UK adults keep their love of 80s film classic Dirty Dancing to themselves.
The secret songs, celebs and films Britain won't admit to loving
Whether we like to admit it or not, all of us are partial to a cheesy film, or belting out a throwback hit in the car where nobody can hear us, and who doesn't have celebrity crush they simply can't explain? Sure, there are the hunks, the Chris Hemsworth's and Ryan Gosling's of the world that can make millions swoon with ease. And there are the Mr Brightside's, the irresistible classics that we're seemingly all born knowing the lyrics to. But what about the cards we keep closer to our chest, the favourite films, songs and celebs that are harder to explain our love for?
Well, it turns out, that celebrity crush you've been hiding for years might not actually be that out of the ordinary – we asked 2,000 UK adults to reveal the secret favourites they won't publicly admit to, so you can gauge where your own lowkey loves fit with the rest of the nation.
The UK's top secret celebrity crushes revealed
When asked to share the celebrities they fancy but have never told anyone, our panel of 2,000 revealed that 61-year-old Carol Vorderman is the most common secret crush – with more than one in 10 (11%) fancying the maths whizz. She is most popular with men, with one in five (20%) admitting to having a crush on the former Countdown host. The most secretly-fancied male celebrity is Paul Hollywood (8.7%).12.2% of women – equivalent to 4.3 million across the UK – consider the Bake Off judge to be a real showstopper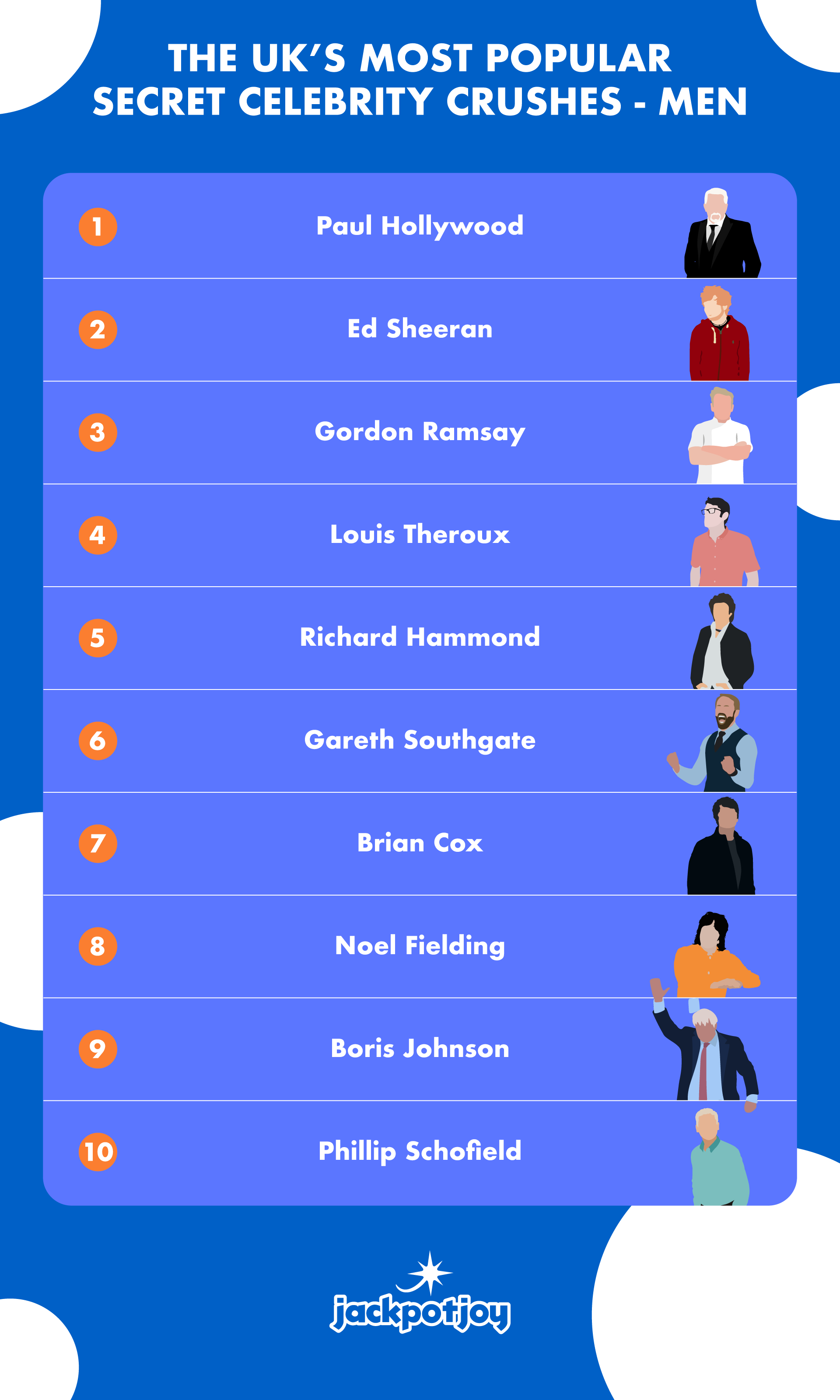 Among millennials (25-34), Ed Sheeran is the most common secret celebrity crush (14.8%), followed by Hollywood (12%) and Louis Theroux (10.4%). And Phillip Schofield is subject to a generational divide – he's the most popular secret crush for 18-24-year-olds (11.8%), but just 0.8% of over 65s find the TV presenter attractive. Over 65s are the most likely group to secretly fancy Vorderman (16%). Other celebrities that are particularly adored by this age group are news and TV presenter Fiona Bruce (14.9%), and quiz host Victoria Coren Mitchell (9.8%).
While our findings show Vorderman and Hollywood have millions of secret admirers across the country, there are hotspots where the two are considered particularly, well, hot. Paul Hollywood is most popular in Glasgow, with 13% of Glaswegians having a secret crush on him, while Carol Vorderman will find the most admirers in Newcastle – 16% of Geordies reported secretly fancying her.
The UK's top 10 secret music playlist
While it might be a karaoke staple, millions of UK adults admit they actually publicly understate their love of ABBA's Dancing Queen. We found it to be the most common song people in the UK won't admit to, with one in four (25%) keeping their ABBA adoration a secret from friends. What is more, a higher percentage of men are embarrassed to admit to blasting out Dancing Queen than women (26% vs 25%).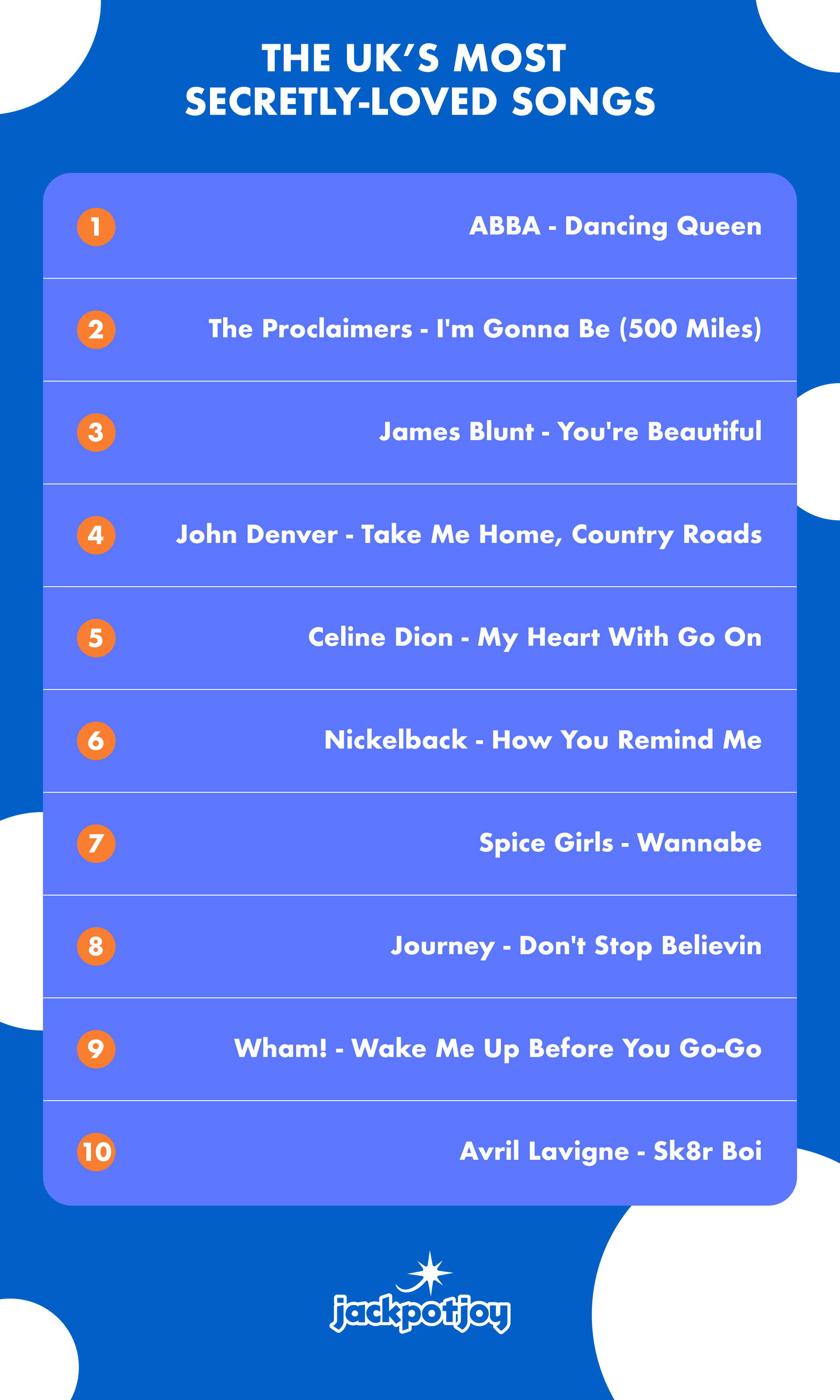 Dancing Queen is also the most popular secretly-loved song among 18-24-year-olds with 28% of this age group being closet ABBA fans. The same percentage of this age group chose Spice Girls' Wannabe as a song they won't admit to loving, which may be surprising given the girl band broke up in 2001 before most of this age group had even been born. Among millennials, more than one in four (16%) are secret Nickelback fans, reporting How You Remind Me to be a song they haven't told anyone they love.
And Glaswegians are the most likely to walk 500 miles, and then walk 500 more, with The Proclaimers' hit being the most common secret favourite song in Glasgow – 28% of people in Glasgow are fond of the track but would rather not admit to it!
The UK's secretly loved movies
Our study also revealed Dirty Dancing as the most common film the UK public love but won't admit to liking, with 13% naming the 80s classic – that's around nine million people in the UK alone that are secret fans of the film!
More than one in 10 keep their love of raunchy romance drama Fifty Shades of Grey a secret – and it's even higher for women. Across the country, 12% of women secretly love Fifty Shades compared to just 10% of men.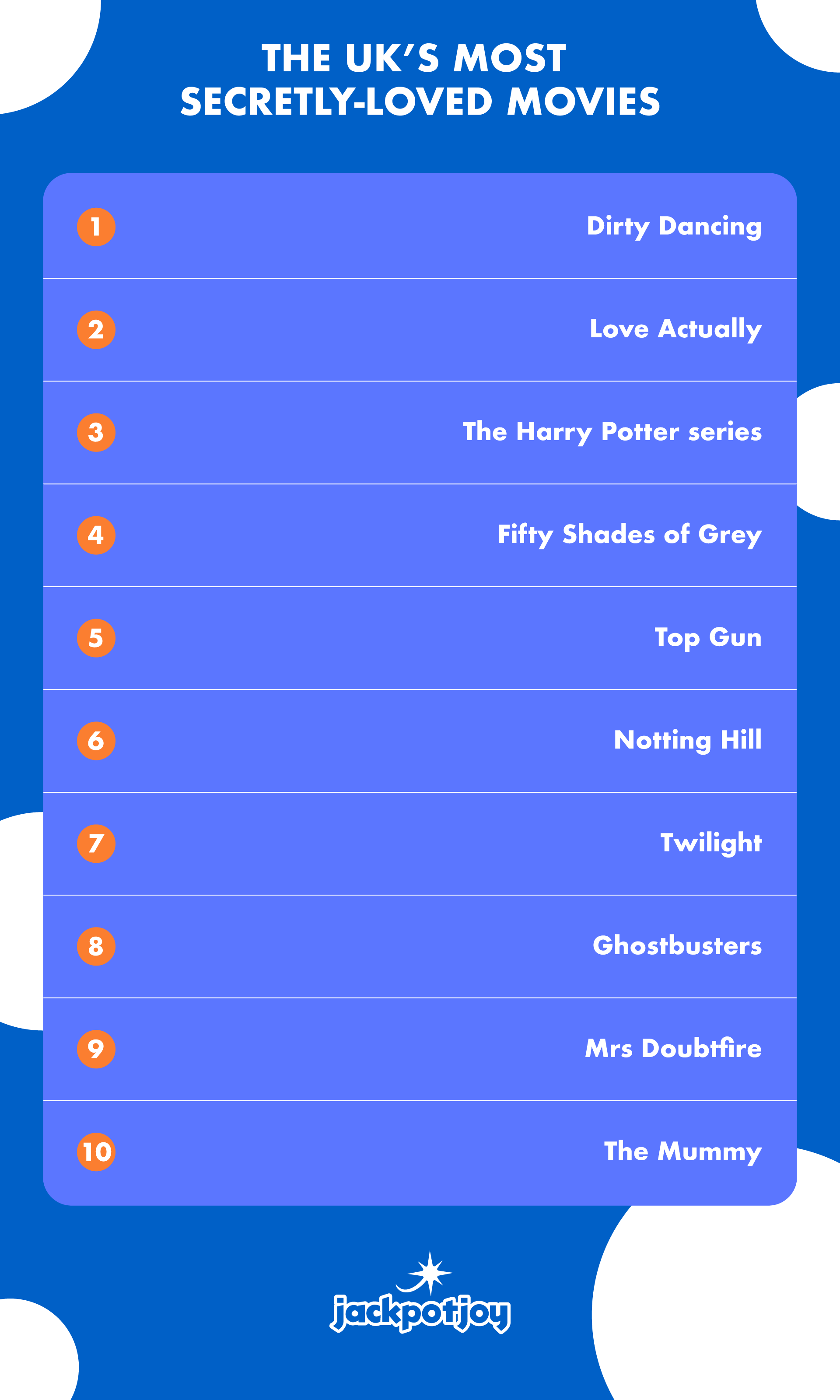 Keeping on the subject of book adaptations, men are more likely to conceal their love for the Harry Potter series (13%) than women (10%), despite the Harry Potter film franchise grossing over £7bn at the box office. And ladies, don't let a man talk you out of putting on a romcom for movie night again – 12% of blokes admitted to actually loving Love Actually, but they probably don't discuss it in the pub. Love Actually isn't the only romcom to make the top 10 – Notting Hill is also a comfort film for 10% of the nation.
So, there you have it – no more belting out ABBA in the car where nobody can hear you – a quarter of the nation secretly love it, so you can sing that – and your love of Paul Hollywood – from the rooftops! And hey, a bunch of those songs would be great as background music while you try our range of online bingo games!